WELCOME TO
DENMANS GARDEN
Garden, Tea Rooms, Plant Centre, and Gift Shop are open
Tuesday – Sunday, 10am to 4pm.  Closed Mondays.
The former home and garden of the late John Brookes MBE, one of Britain's most influential landscape designers, Denmans Garden features dry riverbeds, gravel gardens, a walled garden, a conservatory, and a variety of unusual plants from around the world. The contemporary 4-acre garden was converted from market garden to ornamental garden by plantswoman Joyce Robinson.
In 1946, Joyce and Hugh Robinson purchased land that had belonged to Lord Denman at the turn of the century. They moved into the dilapidated gardener's cottage and renovated the badly neglected property, creating a successful market garden, complete with greenhouses, conservatories, a walled garden, dairy, and piggery.  Their produce went by train to Covent Garden Market and to local shops.
Joyce, known as Mrs. J.H., eventually converted it from market garden to ornamental garden, residing in the charming cottage until her passing in 1996.
John Brookes MBE moved to Denmans in 1980. Until his death in March 2018, he revised the garden continually, integrating Mrs. J.H.'s planting style and retaining the two dry river beds she created. Renovations he began are ongoing.
Today Denmans, which is 4 acres, is a contemporary country garden renowned for its curvilinear layout, faux dry river beds, water features, complex and unusual plantings, and its peaceful year-round interest.
Located between Arundel and Chichester, Denmans is highly significant in the history of garden design.
WHAT YOU CAN FIND IN
Our Garden
the man who invented the modern garden
John Brookes MBE
It was Brookes who coined the phrase "room outside". It caught his sense of a garden as a usable living space, not a collection of individual plants. His drawings applied a simple "grid system" to each site, basing it on proportions he found in its house or the main rooms inside. He insisted that this grid unified a garden and helped its designs to flow. He believed that such a pattern could be arranged with any basic shapes, including beer mats, but it was never as easy as he made it seem.
In this sense he indeed "made the modern garden". It really was he who brought modern principles of design and use into the spaces of smallish private gardens in Britain. He saw plants in terms of form and mass, rather than as individual flowery specimens. He liked pergolas made of white poles. He was a very early apostle of planting in gravel areas. He realised that people liked to eat in their "room outside" and he wanted them to overlook a garden that they could easily manage.

Robin Lane Fox, Financial Times
"John Brookes' gardening legacy lives on in the 'room outside'" 13 April 2018.
John Andrew Brookes MBE (1933 –2018) was a British garden and landscape designer who is widely credited as the "man who made the modern garden".  In his last book, A Landscape Legacy, John humorously and warmly shares his influences, discusses the evolution of his design philosophy, and talks about the gardens he designed and built around the world during his 50+ year career.
Click below to learn more.
http://www.pimpernelpress.com/a-landscape-legacy#book-detail-tabs-stison-block-content-0-tab3
FROM MARKET GARDEN TO "GLORIOUS DISARRAY"
Joyce Langmead Robinson
"Joyce had managed to group and contrast her planting in an extraordinary way, on the one hand totally out of control in its exuberance, but on the other hand structured to contain the exuberance.  And this is – or was at the time – unique, for it seemed to pioneer a type of decorative gardening from which we have all learned since.  And that includes myself."

John Brookes MBE, A Landscape Legacy, 2018
Joyce Hilda Langmead was born in 1904 in West Sussex and grew up in Climping, not five miles from the garden she transformed.  Denmans was her third garden, her first having been the garden where she farmed with her husband Hugh Robinson.  Hugh Robinson, who had been decorated in the First World War, farmed and ran a nursery business in West Sussex that included pigs, a dairy herd and Southdown sheep.  She started her second garden, a "wartime garden", in 1941 in which she grew fruits and vegetables alongside a small flower garden.
In 1946 the couple purchased the Westergate Estate, sold off the manor house, called the rest Denmans and moved into the dilapidated gardeners bothy.  Scrounging flint and brick from her sister's bombed out house in Surrey, they renovated the cottage and transformed the neglected farm and garden into a productive enterprise which included a dairy herd and piggery, selling their produce and cut flowers locally and at Covent Garden Market in London.
By 1950, having also raised four daughters, she realised "I had to do something more about the garden, and I began to plant among the strawberries and flowers that we were growing to sell, and thus over the years I gradually laid the foundations of the garden that you can visit today." (Glorious Disarray, Joyce Robinson, 199,  page 11).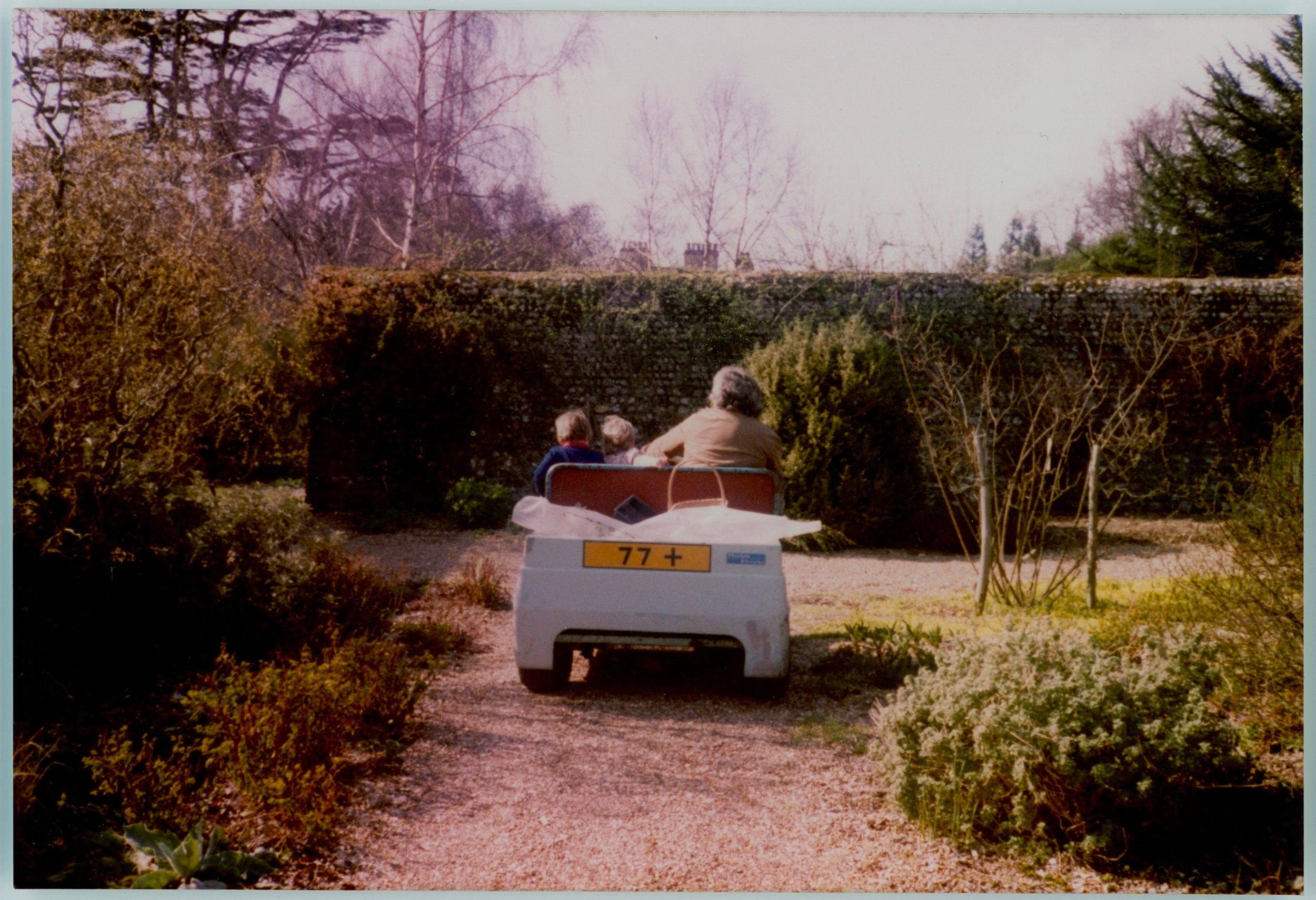 Mrs. J.H., as she was known, learned how to grow plants through her husband's nursery business and about alpines and perennials from a local nursery woman in Barnham in the years before the Second World War.  After the war and rehabilitating Denmans, she continued to learn about ornamental plants by "visiting nurseries, botanical gardens, RHS shows at Westminster, and reading and learning all I could from growers and nurserymen".  (Glorious Disarray, Joyce Robinson, 1990, page 68).  Her family remember her absconding to Hillier's Nursery, Wisley, and other gardens for the day with a packed lunch and notebook in which she took copious notes.  In 1952 she began planting and experimenting with planting design at Denmans in earnest.  By 1970, close to retirement, she began her gravel garden and continued through out the decade to recreate the walled garden and to create faux dry river beds in which she could experiment further.
In addition to becoming an authority on horticulture, she developed a unique understanding of how plants could be combined and planted to their best effect. She closely observed how plants grew naturally on her extensive walks through the Spanish Alps, Greek Islands, the Scottish Highlands, and the Sussex South Downs. She incorporated how shape and texture combined in natural surroundings into her own planting style at Denmans, a unique and sophisticated style that influenced John Brookes and attracted him to Denmans.  She went on to describe her planting style and use of gravel as a planting media in her book, "Glorious Disarray" (1989) and in essays for various publications. Her innovative planting style is still in evidence at Denmans which she opened to the public in the early 1970's.
see what we've been up to
Follow us on Instagram