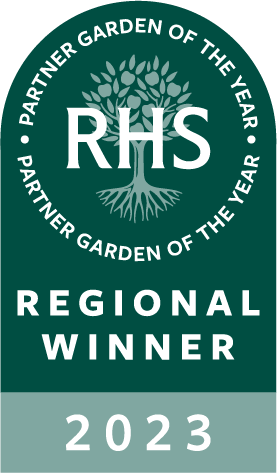 WELCOME TO 
DENMANS GARDEN
\
An award-winning Grade II garden
RHS Partner Garden of the Year for the SE and Channel Islands 2021 AND 2023
We are raising money to support Cash for Kids Mission Christmas so they can help make sure Santa reaches children living in poverty this Christmas. 
We are a Wave 105 radio drop off point for donated presents.
Everything raised in our area stays in our area. Every donation counts and what you give will be used to buy a gift for a child who really needs it.
Thank you for your contribution!
Click here to make a donation to
Cash for Kids Mission Christmas
The Garden is open Mon – Sat 9.30am – 4pm and  Sun 11am – 4pm

Admission  is £9 per adult and £7 for children and concessions (60+)
No admission Fee for the Gift Shop, Plant Centre, or cafe.
Midpines Café is open Mon-Sat, 9-4 and Sun from 10-4
01243 256621 or email  hello@midpines.co.uk
Denmans cannot take bookings for the caf

é

.
The former home and garden of the late John Brookes MBE, one of Britain's most influential landscape designers, Denmans Garden features dry riverbeds, gravel gardens, a walled garden, a conservatory, and unusual plants. The contemporary 4-acre garden was converted from market garden to ornamental garden by plantswoman Joyce Robinson who started the gravel gardens in 1970.
WHAT YOU CAN FIND IN
Our Garden
In 1946, Joyce and Hugh Robinson purchased land that had belonged to Lord Denman at the turn of the century. They moved into the dilapidated gardener's cottage and renovated the badly neglected property, creating a successful market garden, complete with greenhouses, conservatories, a walled garden, dairy, and piggery.  Their produce went by train to Covent Garden Market and to local shops.
Joyce, known as Mrs. J.H., eventually converted it from market garden to ornamental garden, residing in the charming cottage until her passing in 1996.
John Brookes MBE moved to Denmans in 1980. Until his death in March 2018, he revised the garden continually, integrating Mrs. J.H.'s planting style and retaining the two dry river beds she created. Renovations he began are ongoing.
Today Denmans, which is 4 acres, is a contemporary country garden renowned for its curvilinear layout, faux dry river beds, water features, complex and unusual plantings, and its peaceful year-round interest.
Located between Arundel and Chichester, Denmans is highly significant in the history of garden design.
see what we've been up to
Follow us on Instagram