As part of a new occasional blog series 'Meet the Maker' we speak to artist Kate Mercy about her collaboration with Denmans Garden and her up-cycling of glass panels taken from the Dutch light greenhouse erected at Denmans by Joyce and Hugh Robinson in 1948.  The panels were originally held in place by wooden frames which had begun to rot, making the structure dangerous.  After removing them, we gave some of the glass to a Warburton resident who needed a few panels but we were left with quite a few so we were thrilled when Kate said she could use them.  The rest is her story…
I love the garden but I've also visited Denmans coffee shop many times to meet friends and participate in some card and craft sessions. Looking around the shop I couldn't help but notice that they clearly have an eye for pieces created by local artisans.  In October I asked if they might be interested in selling my glassware in their shop or displaying it in their Cafe. However, my timing wasn't great as the shop and cafe were closed due to the pandemic.
I was contacted by Denmans a little while later to see if I could use the glass that had been removed from their Dutch lights. For safety, all of the glass had recently been replaced with Perspex. As a result, there was a large pile of big glass panes, potentially destined for landfill, and they were keen to see if they could be recycled.
At the time I wasn't sure what might be possible, but I wanted to take a look. Two pieces of glass may look the same at first sight but you can never be sure that they are compatible with each other in the kiln – different glass expands and contracts at different rates and if mixed together in the kiln may just crack and become unusable. The added difficulty was going to be how to get colour into the work, as my work is all about colour. So, it wasn't going to be easy but I relish a challenge! The idea of being able to bring something that was now obsolete back to life was irresistible.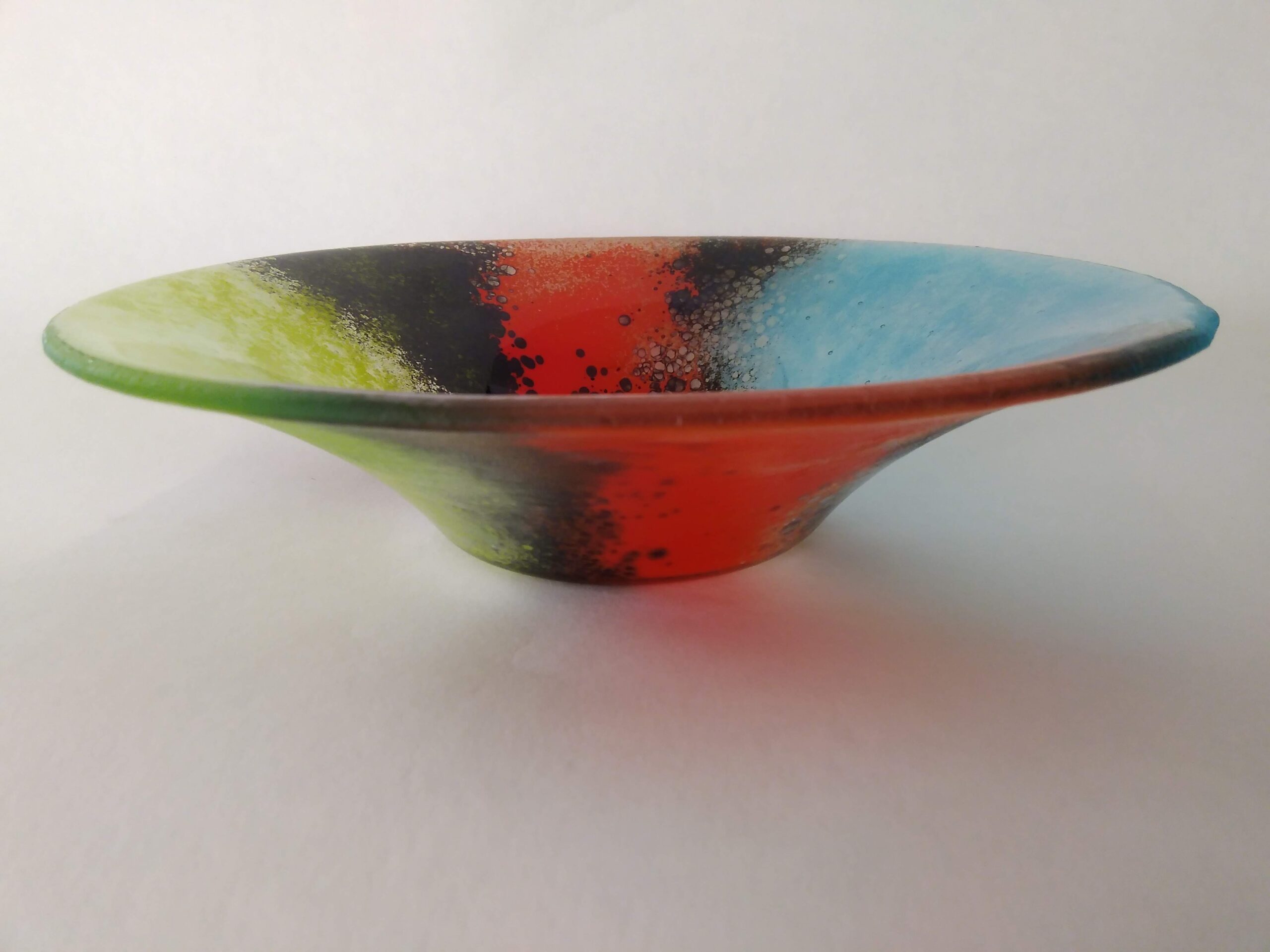 I experimented a lot but have managed to focus in on a number of things that add the colour that bring the pieces to life. More importantly both Mike and Gwendolyn at Denmans were pleased with the results. Gwendolyn and I could see a story evolving and she agreed to sell the products I made, using their glass, in their gift shop.  It is wonderful to be part of the Denmans story and fabulous that future visitors will be able to take a little part of it away with them if they purchase something from the shop.  It's a wonderful way of upcycling!
I visited the garden most recently at the end of July when it had just opened up again and I was blown away by the lovely flow that had been created around it.  The Clock House is stunning and the heads on the Hydrangea's were enormous.  I felt like a 'Borrower' next to them as they were as big as footballs.  The water feature with the gorgeous 'Peter Pan' feature next to it was so quaint too and the history of Denmans is so interesting.  It's forever evolving and improving which is wonderful.