As part of a new occasional blog series 'Meet the Maker' we speak to artist Kate Mercy about her collaboration with Denmans Garden and her up-cycling of glass panels taken from the Dutch light greenhouse erected at Denmans by Joyce and Hugh Robinson in 1948.  The panels were originally held in place by wooden frames which had begun to rot, making the structure dangerous.  After removing them, we gave some of the glass to a Warburton resident who needed a few panels but we were left with quite a few so we were thrilled when Kate said she could use them.  The rest is her story…
I love the garden but I've also visited Denmans coffee shop many times to meet friends and participate in some card and craft sessions. Looking around the shop I couldn't help but notice that they clearly have an eye for pieces created by local artisans.  In October I asked if they might be interested in selling my glassware in their shop or displaying it in their Cafe. However, my timing wasn't great as the shop and cafe were closed due to the pandemic.
I was contacted by Denmans a little while later to see if I could use the glass that had been removed from their Dutch lights. For safety, all of the glass had recently been replaced with Perspex. As a result, there was a large pile of big glass panes, potentially destined for landfill, and they were keen to see if they could be recycled.
At the time I wasn't sure what might be possible, but I wanted to take a look. Two pieces of glass may look the same at first sight but you can never be sure that they are compatible with each other in the kiln – different glass expands and contracts at different rates and if mixed together in the kiln may just crack and become unusable. The added difficulty was going to be how to get colour into the work, as my work is all about colour. So, it wasn't going to be easy but I relish a challenge! The idea of being able to bring something that was now obsolete back to life was irresistible.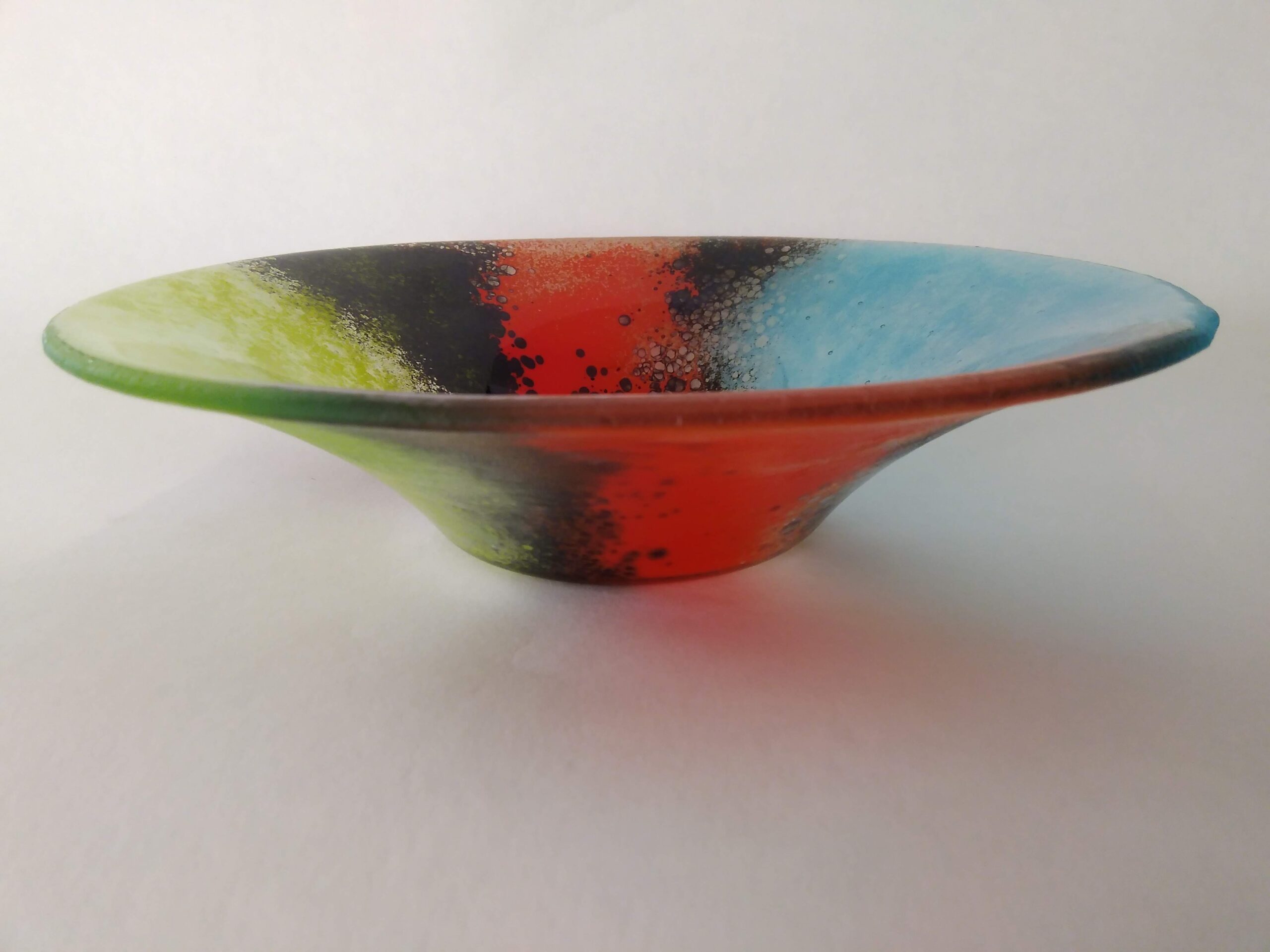 I experimented a lot but have managed to focus in on a number of things that add the colour that bring the pieces to life. More importantly both Mike and Gwendolyn at Denmans were pleased with the results. Gwendolyn and I could see a story evolving and she agreed to sell the products I made, using their glass, in their gift shop.  It is wonderful to be part of the Denmans story and fabulous that future visitors will be able to take a little part of it away with them if they purchase something from the shop.  It's a wonderful way of upcycling!
I visited the garden most recently at the end of July when it had just opened up again and I was blown away by the lovely flow that had been created around it.  The Clock House is stunning and the heads on the Hydrangea's were enormous.  I felt like a 'Borrower' next to them as they were as big as footballs.  The water feature with the gorgeous 'Peter Pan' feature next to it was so quaint too and the history of Denmans is so interesting.  It's forever evolving and improving which is wonderful.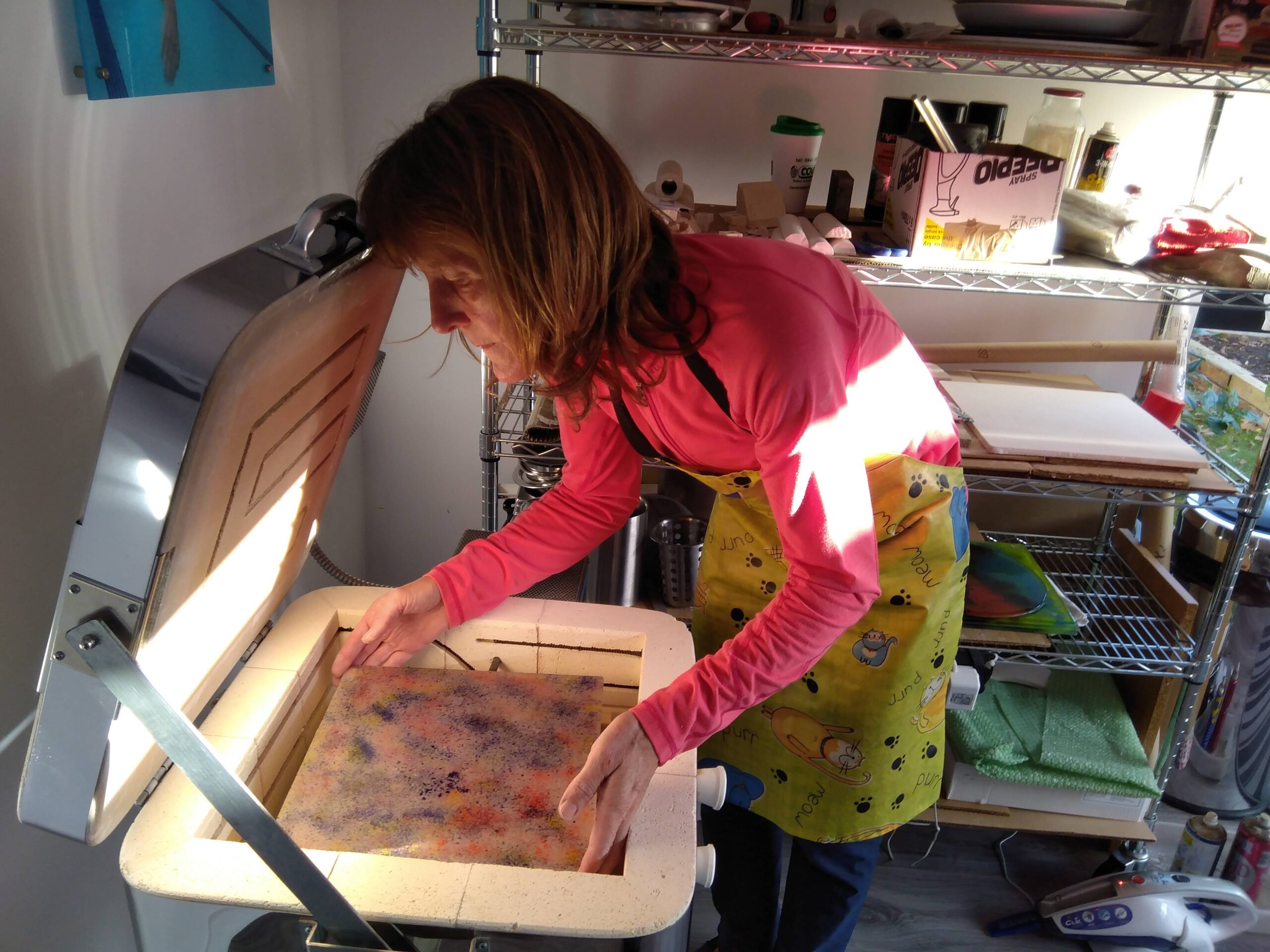 My glass fusing started as a hobby initially!  When we moved to the area, we were really pleased to see how much the area offers by way of crafts and art trails.  We booked on a glass fusing workshop little knowing that I would be hooked from day one!  Glass is a fantastic medium to work with.  The colours can be stunning, particularly with the light behind it, the prism effects can be incredible. Glass is such a tactile material.  I quickly bought my first kiln and took to it like a duck to water.  I love going out to the kiln each day to see how my creation has turned out.  There is always a note of anticipation. What starts off as one idea can turn into another and by the time it's been fired in the kiln you may have gone through several processes to end up with something quite different to the initial concept.  Every piece brings a learning experience. It's jolly exciting!
I work from my new studio at home.  I quickly found that I was outgrowing the room in our house, so we decided to build a beautiful studio in the garden.  It's great because it means that I can create and lose myself while I am working. When I've finished for the day, I can just shut the door on it and return the next day to carry on where I left off. I don't have to clear everything away at the end of each day.
My inspiration can come from anywhere.  Sometimes it's when I'm walking around the South Coast which is beautiful. Sometimes it's when I'm running on my treadmill. Lots of things can start my creative juices flowing.
I love the peace and tranquillity of my studio.  It's so calming and I can lose myself for hours.  I call it my 'me' time.  We're all so busy rushing around these days that it's nice to just relax and chill whilst having a challenge at the same time.  It takes me away from the domestic things that we can get sucked into so easily.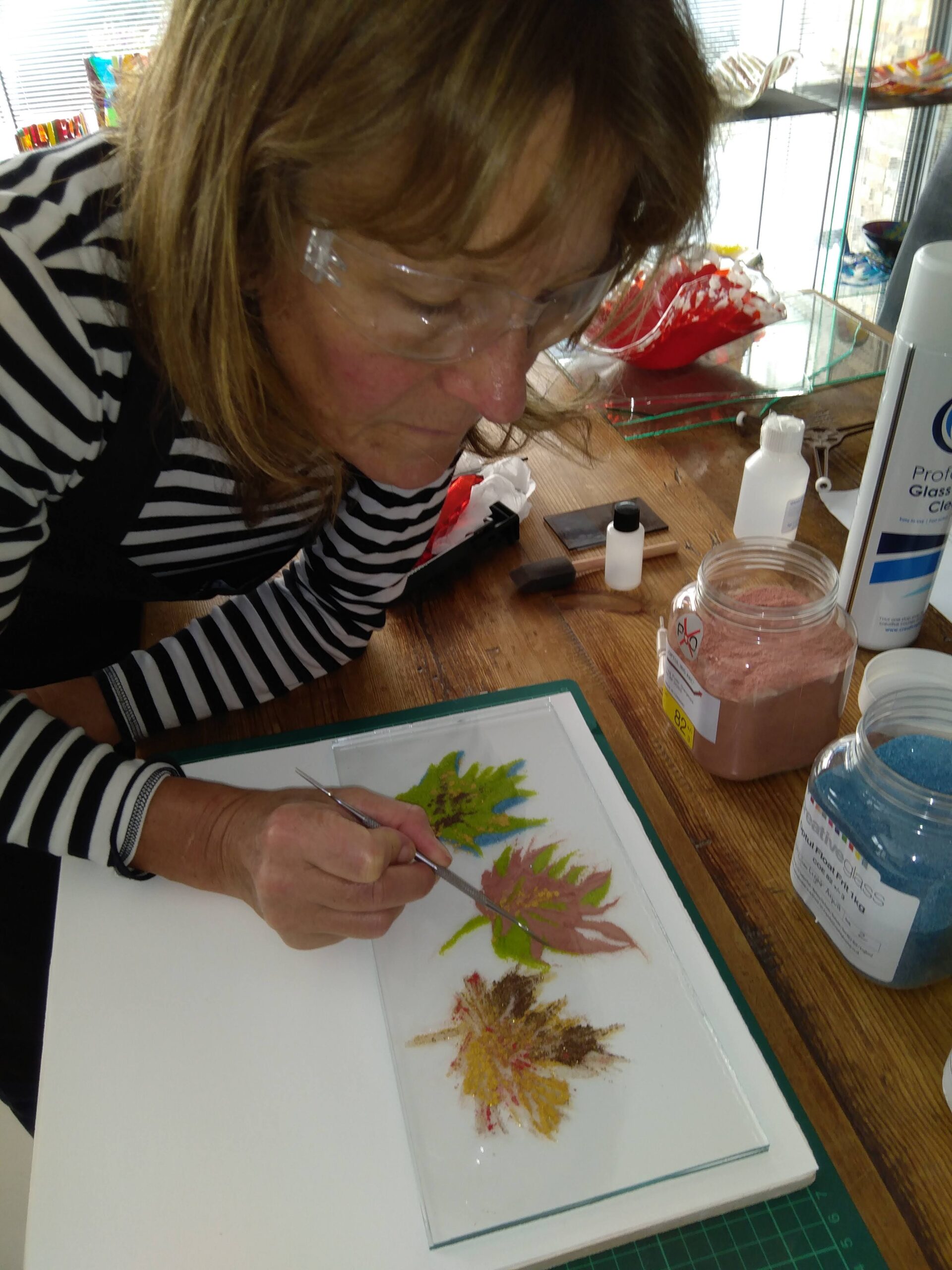 My day starts around 5.30am – but don't panic, that's when I fit in my keep fit time. I do peek into the kiln at that time but generally my day starts around 10am.   Other than that, there is no average day as it depends on what project I'm working on as to how long I'm out in my studio for.
I am a major keep fit fanatic. I love running. I am a child at heart and take great pride in the array of medals I've got from finishing local runs. I also love cooking and baking so that's probably my main 'relaxation'.  My brain is continually active and never really switches off as I'm always tinkering around designing or creating ideas but I don't find that hard work.
My hopes for the year to come are that I continue to learn. My work has evolved and will continue to evolve. I want to share my knowledge and hope to enthuse others by starting up workshops.
At the moment I'm working on a commission for an Ikebana style vase.  It's quite exciting firing test pieces to see what will work. Fingers crossed the recipient is as pleased as I am!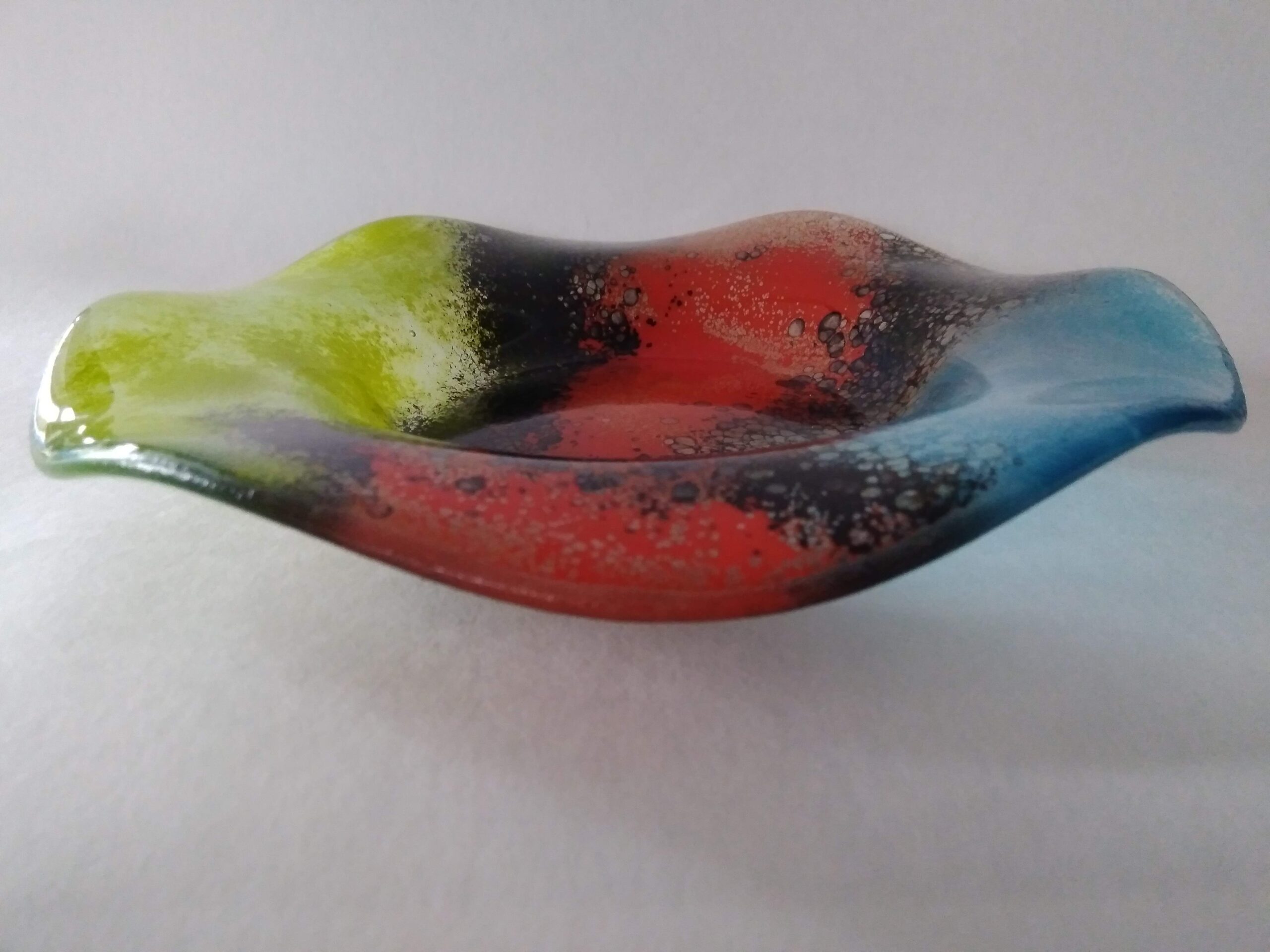 I am particularly excited to grow my relationship with Denmans. It's a lovely family-like unit and everybody is so welcoming. Everyone clearly loves working there. The idea of bringing their old glass back to life in the form of beautiful glass pieces is compelling.
I hope that our story grows and continues to be told and that others enjoy the fruits following a visit. We will get through this current pandemic and I am sure that Denmans will continue to grow too.
For more about Kate you can visit her website www.katemercy.co.uk
Examples of Kate's work using recycled glass from Denmans Garden are available to buy in the gift shop now.