The Walled Garden as it is this month, featuring Beschonaria yuccoides, Euphorbia wulfenii, tulips, and many other beautiful perennials, shrubs, and trees.
When Mrs. Robinson left for a cruise through the Greek Islands on the 29th of April 1969, she took with her a small, thin hardback book with the words "My Trip" emblazoned in gold on its turquoise cover.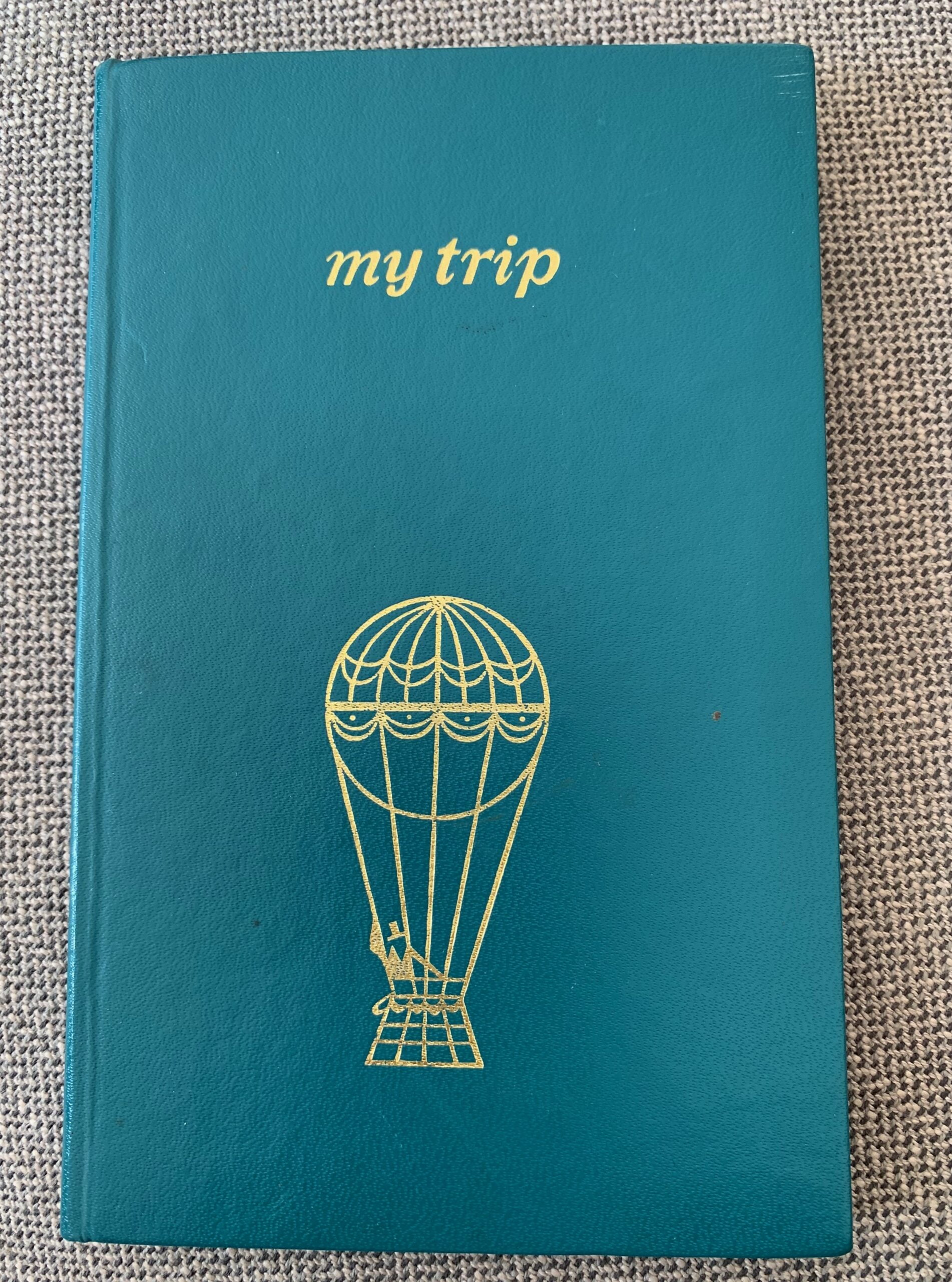 Inside, after pages of generic information about currencies, banking hours, time differences, electric appliances,  and other tips on travelling abroad, there were pages entitled "Itinerary".  On the first two, Mrs Robinson tersely wrote out her itinerary for Cruise No. 81, 29 April – 13th May.  It originated and terminated in Venice and stopped at ports throughout the Greek islands to Istanbul and back again.
In her distinctive hand and in blue ink, she wrote concisely about each day's highlights, her impressions, and the people she met.
Given to us last week by members of Mrs. Robinson's family (pure treasure!) it's an innocuous looking little book but worth its' weight in gold to those of us here at Denmans for it records her impressions of the stop on 10th May 1969 that changed the garden here forever.
By far the longest of her entries at three pages, it begins "A wonderful day I shall never forget."
She was writing about her short stop at the island of Delos, the mythological birthplace of Apollo, which features Doric temples, an amphitheater, houses with mosaic floors, and the famous 'Terrace of the Lions' statues.
It was not these, however, that captivated her.
She wrote that from the ship "the island looked so much like Scotland with small crofts and sheep" but when they landed on the shore it "was so different and all so much softer and flowers – flowers all the way up to the 'top' of the island, hundreds of steps to the temple and flowers and lizards and butterflies!  Just covered with colour.  Poppies, linum, statice, mulleins…. trailing up and around urns and steps and pillars…."
Entirely captivated, she wrote "I was the last to get into the last boat and did not want to leave."
Whether it was an 'a ha!' moment, or whether it simply planted the seed (pun intended), by the time she returned to England, she knew she'd found the new planting medium she had been seeking.  The following year, 1970, she retired from farming and seventeen months later started her first gravel garden at Denmans.
The gravel gardens at Denmans are now over 50 years old.  To read more about the history of Denmans' gravel gardens, please click here.  And if you are interested in what's growing in the gravel here, please click here and here….